In addition to documentaries made by Telling Films, some other TV and radio broadcasts are available individually for educational purposes on DVD and CD for the prices stated in order to defray manufacturing costs (including UK postage). Any donations would always be appreciated to support the ongoing outreach of Telling Films, archiving for the record the heroic source critics celebrated here by Lady Renouf and other defenders of free research, and broadcast by those brave interviewers prepared to balance the democratic equation by challenging the debate-denying tyranny of the seemingly invincible Lobby.
Click on the relevant title picture(s) to request copies by email OR to order via PayPal click Add to Cart buttons.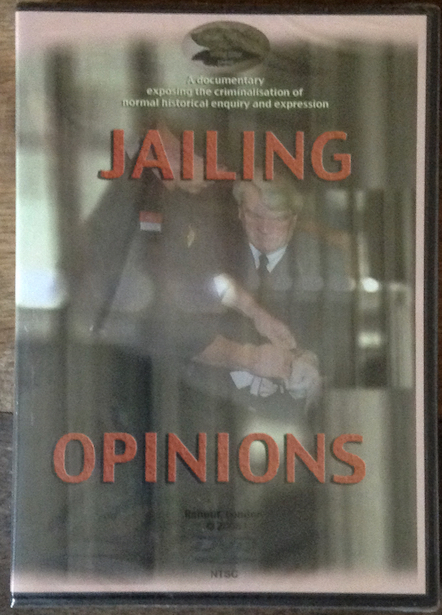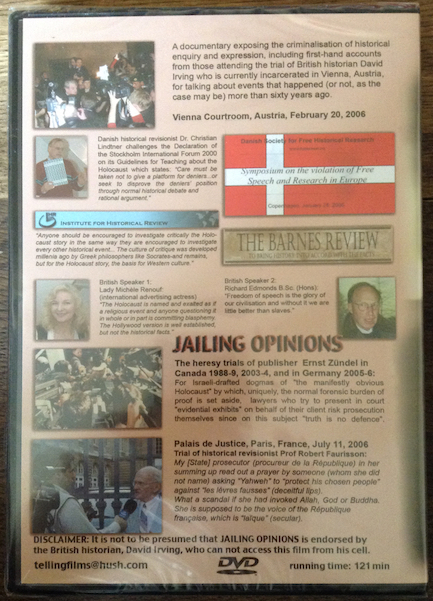 Jailing Opinions
A film documentary exposing the sly laws
which criminalise normal historical enquiry
and expression, including firsthand
accounts from the persecuted Defence
Attorneys and those who dare attend the
ongoing trials in Europe. Chapter 3 is a
firsthand account of the famous trial in
Vienna, Austria, of the British historian
David Irving who was given a three years
jail sentence for talking about events that
happened (or not, as the case may be) more
than seventy years ago.
£9.95 + p&p
P&P to UK £2.90
P&P to Europe £3.90
P&P to USA / Canada / South Africa £4.95
P&P to Australia / New Zealand £5.45
Cheques / postal orders payable to Telling Films
Telling Films
Suite 18
105 Belgrave Road
London
SW1V 2BH

or email dvdorders@jailingopinions.com
This Jailing Opinions DVD now also includes the following free audio CD: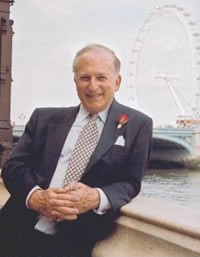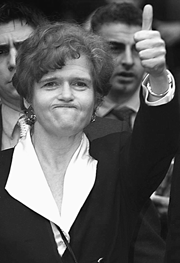 BBC Radio 4's main news programme The World at One interviews Lady Renouf and Lord (Greville) Janner, chairman of the Holocaust Educational Trust, on the day of Bishop Williamson's expulsion back to Britain by an Argentine government cowering before the World Zionism Lobby.
+
BBC World Service hosts debate on 'Why Can't We Question the Holocaust?', with main guests Lady Renouf and Prof. Deborah Lipstadt
25th February 2009
duration 61 mins
---
LATEST RELEASES 2017:
Forgotten British Heroes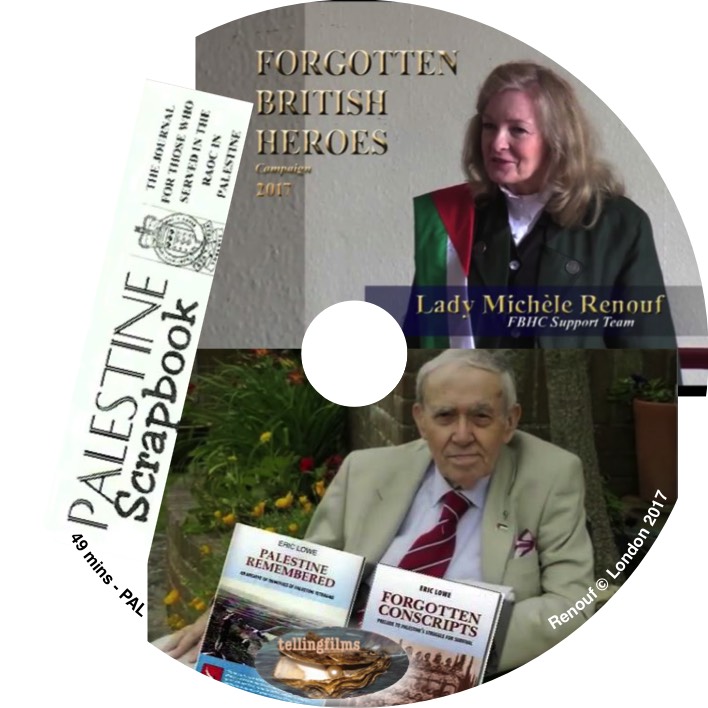 Lady Renouf speaking in Bristol on 29th July 2017: the 70th anniversary of the murders of Sgts Mervyn Paice and Clifford Martin, who were kidnapped, tortured and killed by Zionist terrorist gang Irgun in July 1947. Lady Renouf describes how she first learned of the history of this period from British servicemen, notably Eric Lowe, author of Forgotten Conscripts and Palestine Remembered, and introduces her film featuring an interview with Mr Lowe by the late Phillip Knightley.
49 mins
Available now for £10 (please add £2.50 for overseas orders).
ERNST ZÜNDEL - 'OUT AND UNBOWED'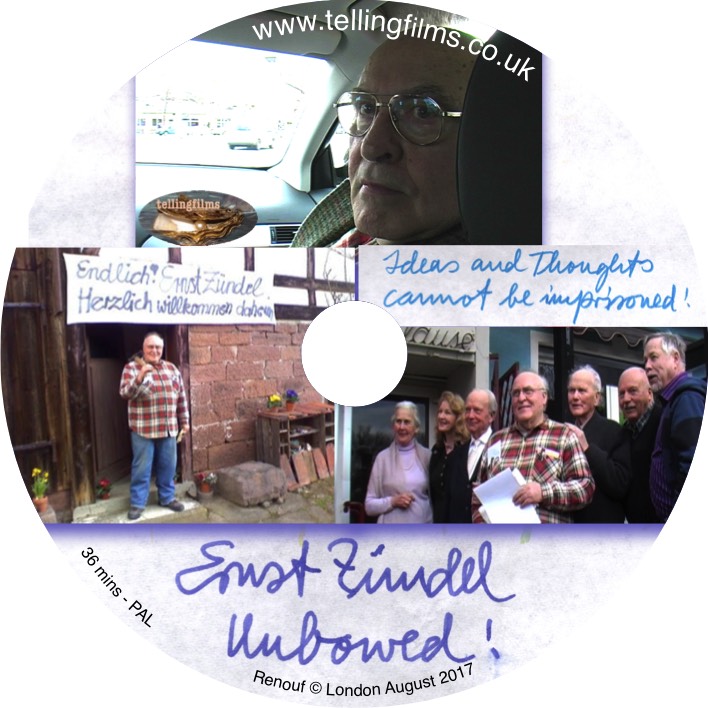 A DVD tribute to the late, great Ernst Zündel, filmed on the day of his release from Mannheim prison.
Available for £10 (+£2.99 UK postage, or £4.99 for worldwide postage).
OPINION 'CRIME'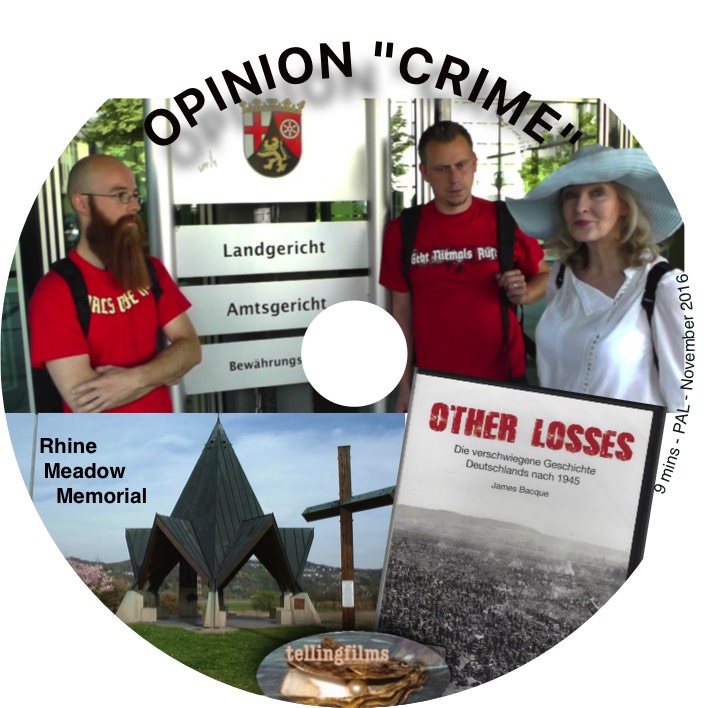 This film concerns two young Germans briefly interviewed by Lady Renouf in Koblenz, Germany, in August 2015, who have suffered two years imprisonment on remand, and a further two years of court proceedings, for fear that their peaceful opinions might influence others.
One example of their so-called crimes is their respectful attendance at regular marches commemorating postwar mass murder of German prisoners in the 'Rhine Meadow Camps', where they were confined without shelter, food or sanitation by the occupying U.S. forces under Gen. Eisenhower.
This barbaric treatment is now exposed in 'Other Losses', a book by James Bacque and accompanying film produced by Robert Steinert.
£5
JAILING THE LAWYERS
A DOUBLE DVD FEATURING INTERVIEW WITH HORST MAHLER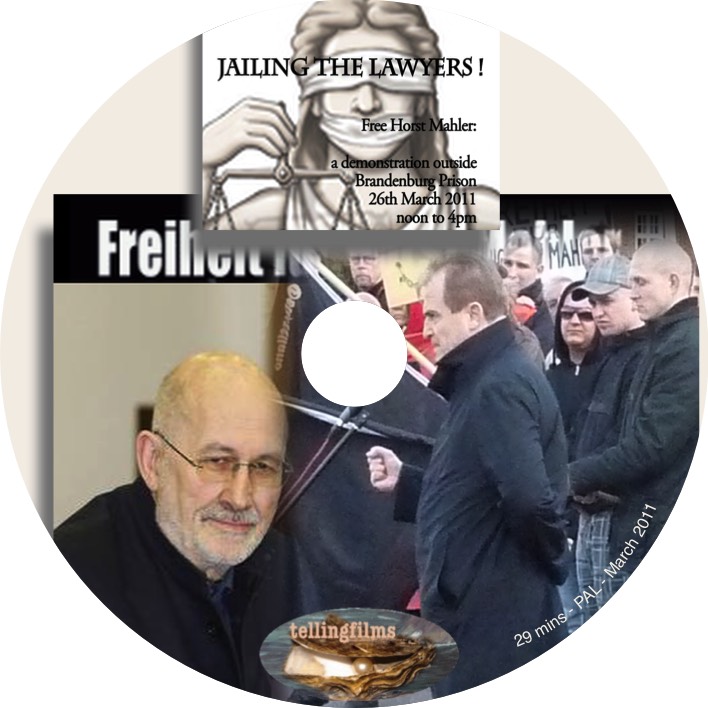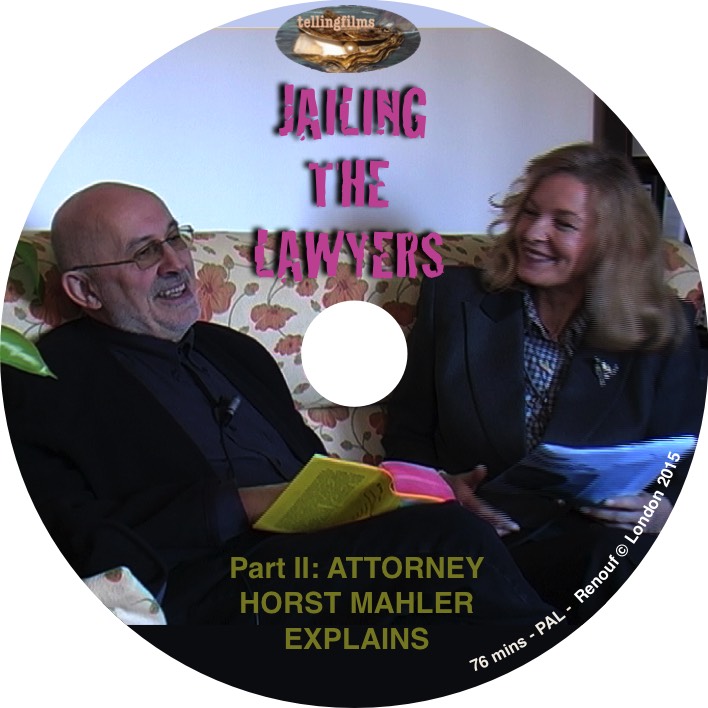 Jailing the Lawyers Part I includes speeches from a demonstration outside Brandenburg Prison near Berlin, where attorney Horst Mahler was incarcerated by the German state for his "opinion crimes".
Jailing the Lawyers Part II includes Lady Michèle Renouf's interview with Horst Mahler, filmed near Munich, in which he discusses the oppression of researchers, scientists, lawyers and others in today's Germany – and his interview in Vanity Fair with the Jewish activist Michel Friedman, which formed part of the case against him.
This 2-DVD set is available for £12 (+ £3.99 UK p&p or £7 worldwide).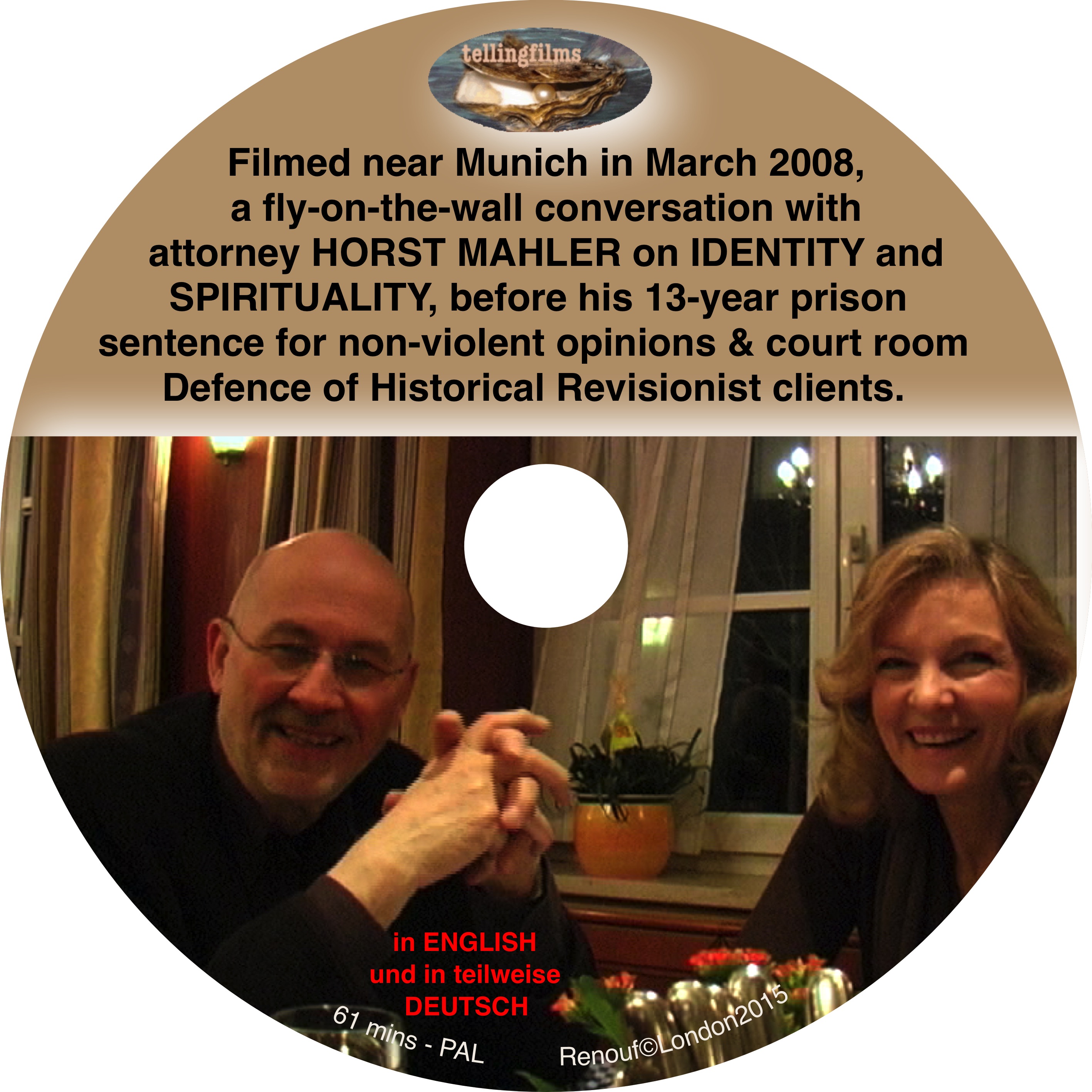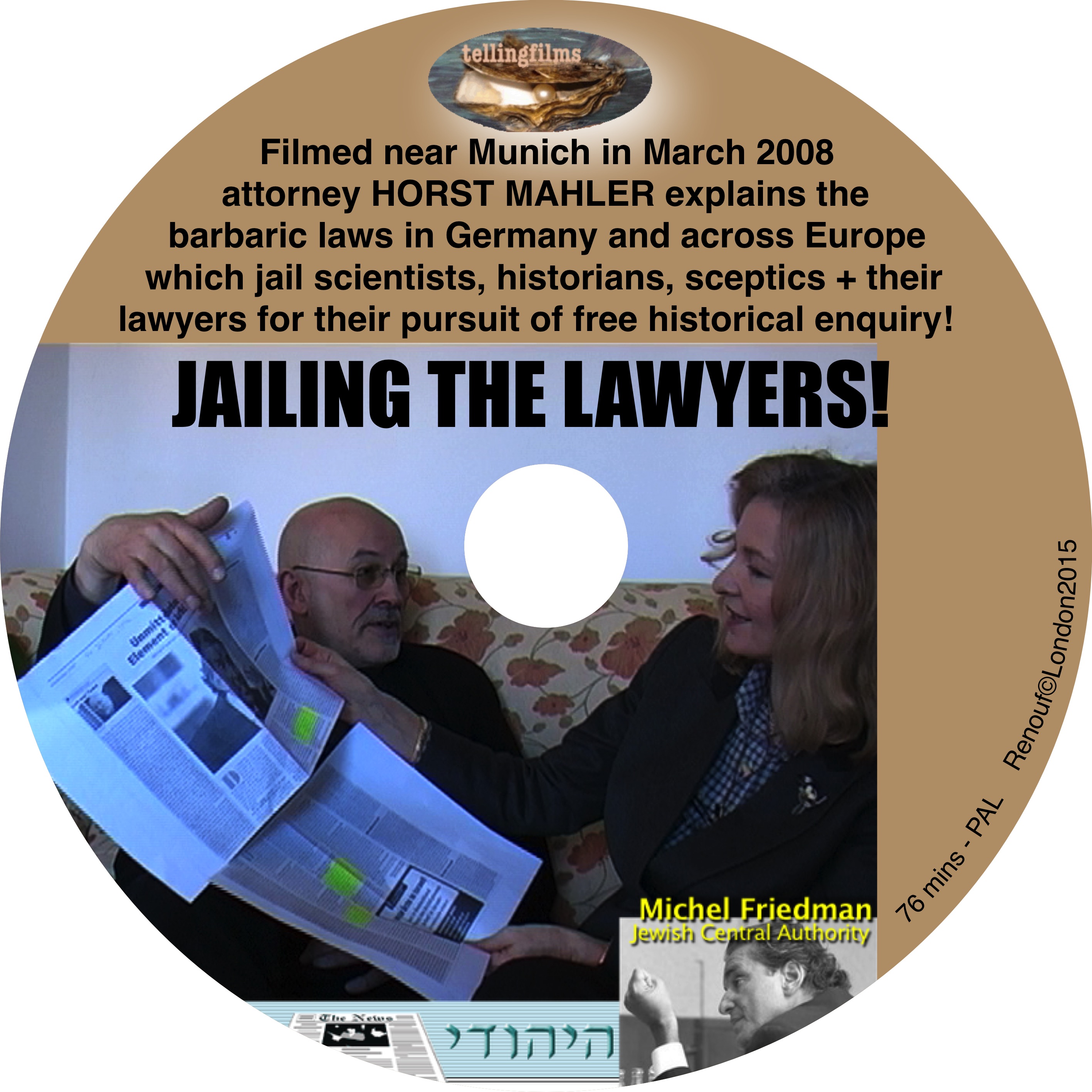 A 2-DVD set featuring Horst Mahler interviewed by Lady Michèle Renouf in March 2008. The first DVD discusses questions of identity and spirituality, before Horst Mahler's 13-year prison sentence for his non-violent opinions and defence of revisionist clients.
On the second DVD Horst Mahler explains the barbaric laws enforced in Germany and across Europe where scientists, historians and other sceptics – including their lawyers – are jailed for their pursuit of free historical enquiry!
This 2-DVD set is available for £12 (+ £3.99 UK p&p or £7 worldwide).
HIGHLIGHTS FROM
THE INTERNATIONAL IDENTITARIAN CONFERENCE 2015
IN GUADALAJARA, MEXICO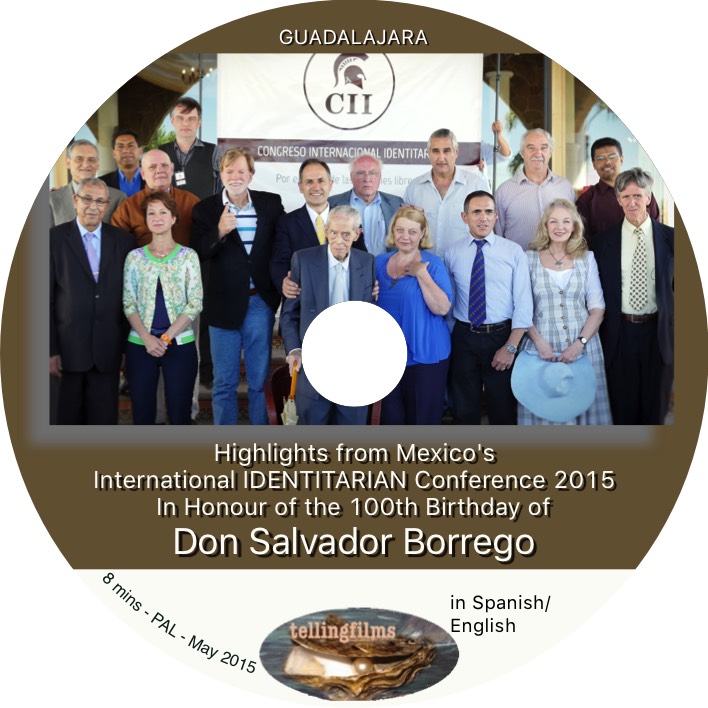 8-minute highlights: available for £5 (incl UK postage, please add £2.50 for overseas postage)
Jonathan BOWDEN
The Nation's Best Orator
4 DVD collection of eight presentations
(click on the DVD front cover above to view full information)
The late Jonathan Bowden featured in eight presentations at London events, 2009-2012.
DVD 1: Jonathan Bowden introduces Lady Michèle Renouf – We couldn't get the Bishop, so we've got the actress;
+ Bowden on The Real Meaning of Punch & Judy
DVD 2: Bowden on Western Civilisation – a bullet through steel
+ Bowden on Vanguardism – Hope for our Race
DVD 3: Bowden on Gabriele d'Annunzio
+ Bowden on Yukio Mishima
DVD 4: Bowden on The Soviet Gulag
+ Bowden on Charles Maurras, Action Française and The Cagoule
This 4 DVD set is available from Telling Films for £15, + £3.50 postage & packing (UK), or £6 postage and packing (worldwide)
email your orders to dvdorders@tellingfilms.co.uk
---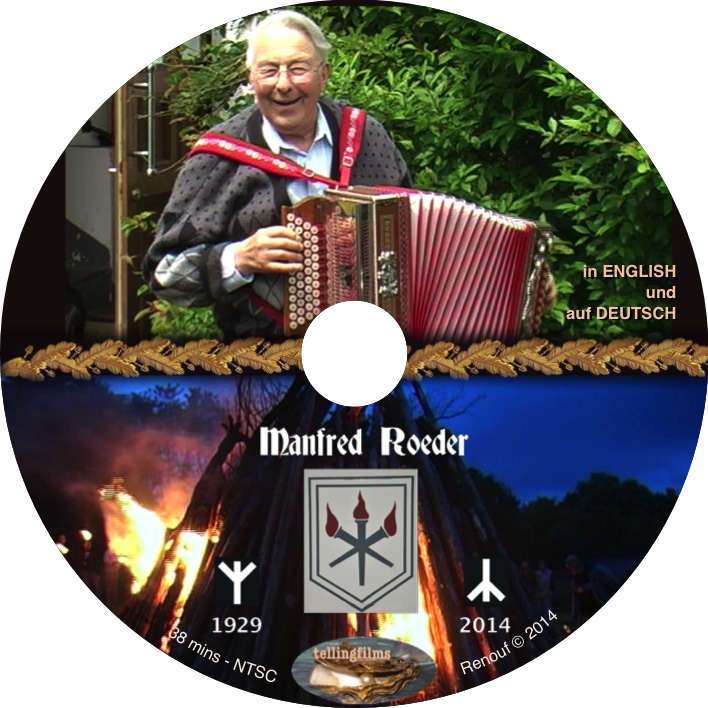 The Legacy of Manfred Roeder
Excerpts above from the new Telling Films DVD – The Legacy of Manfred Roeder (1929-2014), lawyer and guardian of German heritage.
Also free with this DVD is a six-minute DVD of a German television report in 2017 from Manfred's former home in Hessen, described by German press and TV as the 'Reichshof'. While gardening one morning, Lady Renouf finds herself being filmed by a TV camera crew stationed at the entrance to the property.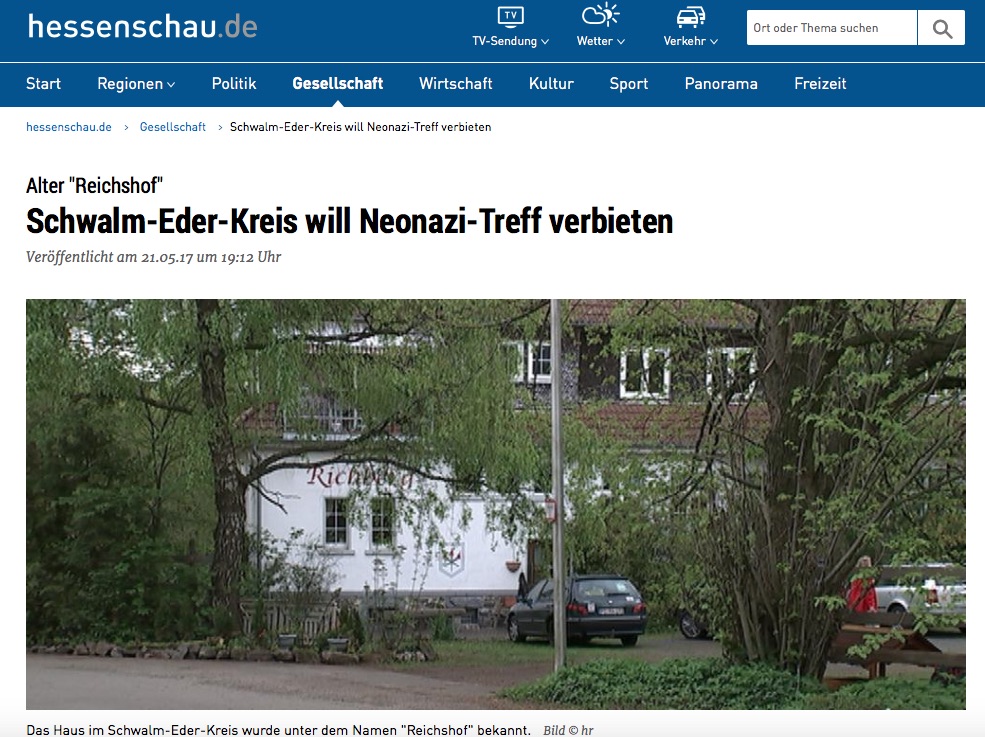 Email dvdorders@tellingfilms.co.uk to buy this DVD for £7.99 (+ £2.99 UK P&P)
(please add £2.50 for overseas orders)
or send cheques / postal orders payable to Telling Films to:
Telling Films, Studio 18, 105 Belgrave Road, SW1V 2BH
---
Bad Nenndorf 2013 and 2014:
Mourning the Victims,
Naming the Culprits
in English and German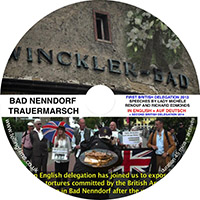 click here to view the DVD cover with full details
click below to order the new Bad Nenndorf DVD
for £7.99 (+ £2.99 UK P&P)
(please add £2.50 for overseas orders)
Relocating Israel

Lady Michèle Renouf interviewed by Prof. Rodney Shakespeare, Al Etejah TV, 2014
Eric Lowe – British servicemen in Palestine 1945-1948 considered: "European Jews going to Palestine after two millennia to take it for themselves would be like Romans claiming Britain after an absence of two millennia."
Renouf calls for a UN resolution in support of the first Jewish Homeland option of the Jewish Republic of Birobidjan – STILL the only all round peaceful safe haven for Jewry: Free Gaza, Free the World.
available for £5 (incl UK postage - please add £2.50 for overseas postage)
---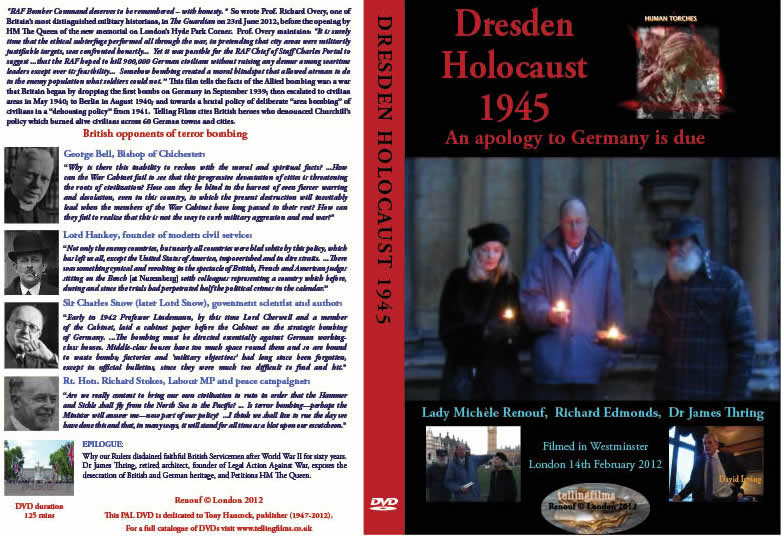 As Queen Elizabeth II opens a memorial to the 55,000 members of the Royal Air Force Bomber Command who died during the Second World War, increasing numbers of Britons are questioning the history and legacy of that conflict.
The political leaders (principally Prime Minister Winston Churchill) who sent those men of Bomber Command to their deaths – as well as condemning 500,000 German civilians to be burned alive across sixty towns and cities that were devastated in a deliberate bombing strategy – are now seen by some as war criminals.
Moreover the influence of these criminal policies can be seen in the approach of today's Washington-London-Jerusalem axis, with American and British bombers again sent into foreign skies to terrorize civilians, in pursuit of an alien agenda that does nothing to enhance the security of the USA or the UK.
Telling Films has produced a new DVD which calls the criminal politicians to account and sets the record straight. In the process the film celebrates the small but significant group of influential Britons who even during the Second World War condemned the terror bombing policy.
This heroic band of true beacons of justice included George Bell, Bishop of Chichester; Lord Hankey, founding father of the 20th century British government machinery; Sir Charles Snow, government scientist and author; and the Rt. Hon. Richard Stokes MP, England's leading Roman Catholic politician of the 1940s, a socialist patriot who combined his condemnation of terror bombing with insights into the insidious threat of international usury, communist expansion and Zionist subversion.
Entitled Dresden Holocaust 1945: An Apology to Germany is Due, the new Telling Films DVD combines archive material and footage from the 1940s; new film of a Dresden anniversary commemoration outside the Houses of Parliament and Westminster Abbey; insights on Churchill's bombing policy by the historian David Irving, author of the definitive history of the Dresden holocaust, Apocalypse 1945: The Destruction of Dresden; and commentary from veteran political activist Richard Edmonds, peace campaigner Dr James Thring and documentary producer and free debate defender Lady Michèle Renouf.
As a supplement to this film, a second DVD includes Richard Stokes: Socialist Patriot, Opponent of Terror Bombing and Defender of Palestine, an address given in London by political analyst and broadcaster Peter Rushton, assistant editor of Heritage and Destiny. Mr Rushton sets Stokes's courageous statements opposing the Churchill government's bombing campaign in the context of his religious and political views, including attempts at a negotiated peace in 1939-40 and Stokes's involvement in the notorious Tyler Kent affair, when an American cypher clerk was imprisoned for threatening to disclose Winston Churchill's secret communications with President Roosevelt, which sought to ensnare the U.S. in a European conflict.
The DVD Dresden Holocaust 1945 is dedicated to the publisher Tony Hancock (1947-2012) and is available for £9.99 + £3.50 postage and packing (UK and European Union countries); or £9.99 + £5 postage and packing (worldwide outside EU).
Please click on the PayPal link to order: all enquiries should be emailed to dvdorders@tellingfilms.co.uk
Two brief excerpts below feature British historian David Irving speaking in London in 2012.