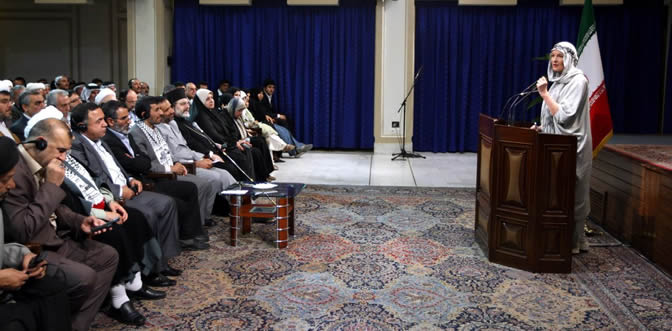 Invited to give an impromptu address to President Ahmadinejad and a thousand international guests at the Presidential Headquarters in Teheran on 3rd June 2010, the day after the Commemoration Conference for Imam Khomeini,
Lady (Michèle) Renouf made the following comments.
(transcript below)
Most Excellent President – unparalleled in our time.
Our admirable hosts; and fellow lucky colleagues.
Imam Khomeini is our role model. Indeed he is a role model for the West, and it surely is our duty to make the West aware of why. For Imam Khomeini answers the question of what is Justice, to advise: "Ask your Reason, for Reason is the eye of Justice." Iran and the West share the Ancient Classical Greek tradition of scientific attitude, which Imam Khomeini has sustained whilst the West has been led astray and fallen prey to what I call predatory 'swindle-speak'. The Classical Greek tradition is based on the four inseparable Virtues, namely Temperance, Wisdom (with scientific attitude), Justice and Courage.
In the last two days I have been asked which quality I most admire in Imam Khomeini, yet the reason why he is a role model for both Iran and the West is because he sustains all four Virtuous qualities which are useless if separated. For, as he and President Ahmadinejad - himself a role model as exemplified in his Teheran Conference in 2006 - show us, "historical truth goes by evidence not emotion" [to quote the last courageous Christian Bishop, Richard Williamson], and that without historical truth there can be no international justice.
Imam Khomeini was a great champion of Palestine and understood that the League of Nations and later the U.N. were Zionist initiatives which defied historical truth and thereby created the anti-democratic, pro-Zionist, privileged veto. The very basis of the U.N. is the self-same specious nature of the Nuremberg Trials of 1945 and 1946. At the time five Supreme Court judges in America denounced the Nuremberg show-trials, conducted by the so-called victorious Allies, as a "judicial farce" by a "lynch mob". These forgotten Judges declared that hearsay evidence and testimony obtained by torture are illegitimate instruments and that parties who act both as judge and jury fly in the face of natural justice.
Imam Khomeini would surely wish us to make known the two fundamental swindles by those who create and control the media and public information narrative. These refer to the fact firstly that the Zionist Entity had no moral right at any time to pirate Palestine, and secondly that European Jewry had no such necessity. Half a century before World War II (and therefore making World War II irrelevant to the issue) Theodor Herzl's 1895 blueprint for The Jewish State instituted the genocidal policy towards the indigenous Palestinians, who to use his euphemistic term were to "disappear", to be replaced by Jews.
Herzl's 1895 genocidal policy means that the Jews were the culprits not the victims, and thus had no moral right at any time to Palestine. Indeed after 1928 European Jews had no need to pirate Palestine, and to this day a Jewish Autonomous Region called Birobidjan exists peacefully and available on Russia's south-east border with China, having never displaced an indigenous people for its creation. Today some Jews try to claim that it was an act of anti-semitism when Stalin gave this region of 30,000 sq. km (the size of Switzerland) to Jews. The truth is that Stalin was providing every ethnic group comprising the Soviet Union with its own autonomous region, and nothing "anti-semitic" has ever endangered Birobidjan. Furthermore in 1945 when European Jews were crying "We have no homeland, we need and deserve Palestine" – again they lied, for in 1945 there was no political impediment to prevent European Jewry heading for the welcome arms of their vast and long-established Jewish Autonomous Region in Birobidjan.
The same is true today, yet in our mainstream media we hear not a word of Birobidjan. Only rarely does the Jewish Telegraphic Agency mention Birobidjan, and when it does it refers to it disingenuously as a "district". Which district in the world is the size of Switzerland? The fact is that since the dissolution of the Soviet Union its ethnically autonomous regions have been entitled to republic status, yet the JTA lets us know that due to so-called "sensitivity" to Israel, Birobidjan has declined, due to fear of raising gentile public awareness of its existence, to acknowledge this first Jewish homeland, and all but state and republic.
My hope is that our President Ahmadinejad, who speaks the whole truth bravely, will promote awareness of the first Jewish homeland and that there is no need for European Jews to go back to Germany, Poland or Austria when they have their own state whose first language is Yiddish. Please view my first homeland option website at www.birobidjan.co.uk for, in the spirit of Imam Khomeini, there you will find a campaign for moral and morale rearmament. The Palestinians whose Nakba constitutes the greatest tragedy of the 20th century – those brave voters who democratically elected the long heroic Hamas - deserve the return of every inch of their tormented land, and not any part in the specious "one-state two-state" farce. The immediate vacation of European Jews from all of Palestine and compensation to the indigenous Arab people is more than overdue to those who, for more than a century, continue to fight for Reason at the front line of historical truth and international justice for all of us.
Mr President, thank you, I am happy to be in this uplifting company among the courageous voters for Khomeini's international Reason and Ahmadinejad's historical Justice!
Oh and Mr President, I almost forgot to mention that I have brought a DVD for presentation to you. It is about the British veterans who served in Palestine 1945-48, who tell a very different story (unlike their war debt-mortgaged government) to the lies we hear about the founding of Israel. Indeed their witness is to be removed from the pages of history, for they were never invited to the Cenotaph, were denied their medals, and even the war memorial to their dead comrades they had to pay for themselves. In this trailer for my trilogy "Israel in Flagrante: Caught in Acts of Twist-speak", I quote the wisdom of King Ibn Saud who predicted precisely the disaster that these Jewish terrorist occupiers have brought to the Middle East. The Saudis also have a role model in King Ibn Saud, but alas like the West they too have fallen prey to colluding and coat-tailing on the usurer's swindlespeak.
Lady Michèle Renouf
Telling Films, London