Holocaust denier's freedom 'a great success'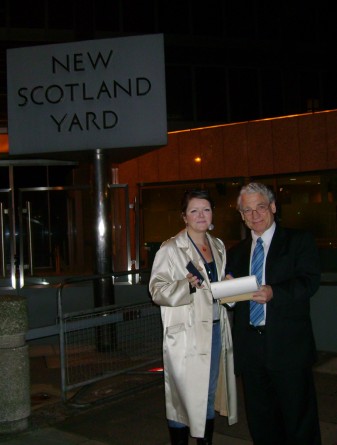 Dr. Töben's passport is returned at Scotland Yard
by an extradition squad officer
HOLOCAUST denier Fredrick Toben has flown out of London a free man, leaving fellow Australian Michele Renouf celebrating her role in what she sees as a great victory for democracy and freedom of thought.
After helping Dr Toben to avoid extradition to Germany on Holocaust denial charges, Lady Renouf vowed yesterday to keep working for a cause that is widely seen as a hateful and anti-Semitic twisting of history.
"This is not a hobby for me -- I feel it is a responsibility," she said. "Now I know people are being imprisoned for their opinions, I can't stop trying to do something about it."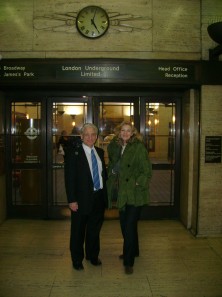 Dr. Töben with Lady Renouf as he prepares to leave
London after fifty days in jail, having committed no crime
Lady Renouf, the third wife of the late New Zealand banker Frank Renouf and a former beauty queen whose titles included Miss Newcastle 1968, co-ordinated Dr Toben's successful defence against a European arrest warrant.


The successful Töben defence team's barrister Ben Watson
She then organised for veteran French Holocaust denier Robert Faurisson to visit London this week to try to capitalise on Dr Toben's legal victory by holding a press conference at which he declared Adolf Hitler never used gas chambers to kill Jews.
The British press ignored Mr Faurisson's speech, but Lady Renouf said she still felt triumphant because German prosecutors had failed to have Dr Toben extradited for publishing on the internet views about the Holocaust that were illegal in much of Europe, but not in Britain or in Australia.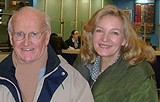 Prof. Robert Faurisson is seen off safely back to France at Heathrow by Lady Renouf. On his visit to London he freely explained the forensic revisionist method - illegal in much of Europe - while risking a warrant for his own extradition. The Töben defence team had proved European Arrest Warrants for revisionism are too vague to act upon and cannot be otherwise, rendering impossible the extradition of revisionists from the U.K. when their defences are handled expertly.
"We have had a great success -- Dr Toben was not imprisoned and this country was not imprisoned by being brought into harmony with Germany's Holocaust laws," she said. "We have proved the European arrest warrant is too vague to act on.
"If I had not intervened, he would now be in jail in Germany and this country would be subject to Holocaust denial laws by the back door."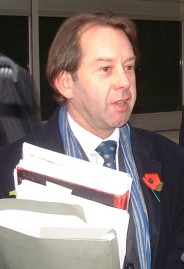 The successful Töben defence team's solicitor Kevin Lowry-Mullins won a decisive victory in a case with major constitutional implications
Lady Renouf organised a top extradition solicitor to defend Dr Toben and then convinced the Adelaide-based former schoolteacher to allow his lawyers to base their case on the vagueness of the arrest warrant issued by Germany, rather than mounting a futile ideological defence about the merits of his views.
While virtually every mainstream World War II historian in the world agrees on the extent of the Holocaust, Lady Renouf has become a high-profile supporter of Dr Toben and others who argue that the Nazis' crimes were exaggerated to help the Jews secure a homeland in Israel.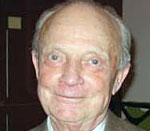 Lady Renouf had observed the singularly successful strategy of veteran Viennese lawyer Dr. Herbert Schaller during 2006, interviewing him in 2008 for a forthcoming DVD sequel Jailing The Lawyers. Dr. Schaller's legal strategy was the indirect inspiration for Lady Renouf's approach to Dr. Töben with the idea to defend himself on detailed legal rather than inappropriate ideological or futile moralistic grounds.
Lady Renouf, who works as an advertising model, has attended court cases and Holocaust conferences around the world. She said she funded her activities "with some difficulty" by using her savings and selling her art collection and family heirlooms because "the Jews I come across in my work are Zionists, so my work has dropped off".
Lady Renouf was thrown out of the progressive Reform Club in 2003 after taking controversial historian David Irving there as a guest. She now faces expulsion from a London discussion group, the European Atlantic Group.
Her critics "always say I am charming but sinister", she said, "because if you meet me you don't find the hate they talk about". Denying she was anti-Semitic, she said: "I oppose the Jewish religion, not the people."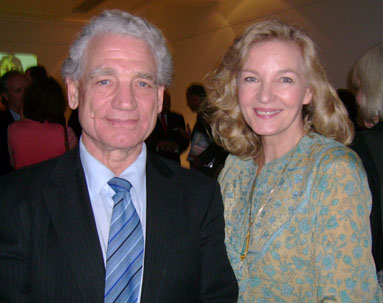 Dr. Töben and Lady Renouf at a champagne reception
on the evening of his release
click here for Lady Renouf's earlier report
(including two new videos)
Töben arrested: letters to
Australian High Commissioner
Töben backed by Liberal Democrat MP
+ new article by Chris Huhne MP

Neturei Karta attacked
arson destroys dissident Jews' HQ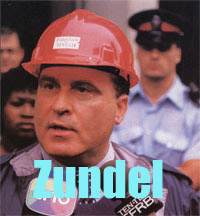 Ernst Zündel - five year jail sentence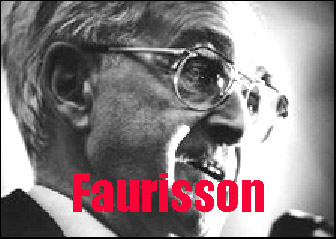 Robert Faurisson - new translation of Tehran interview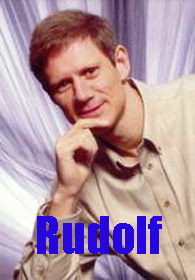 Germar Rudolf - 30 month jail sentence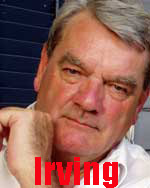 David Irving - speech to Oxford Union breaks anti-revisionist taboo
---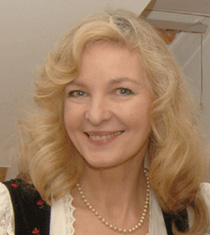 The background to the worldwide persecution of Holocaust revisionists is examined in Lady Renouf's new DVD Jailing Opinions, reviewed here.
---
Further information about Ernst Zündel's battle for truth and justice can be found at the Zündelsite
---