The Jewish Republic homeland
is in Russia's South-East
(the size of Switzerland)


Coat of Arms of the City of Birobidjan
All-Round Common Sense Campaign
for rationalising the First Jewish Homeland - Birobidjan, capital of the Jewish Autonomous Region (J.A.R.) - as the Sole and Safe Jewish Homeland - thus restoring Palestinian sovereignty and former tranquillity in the Middle East.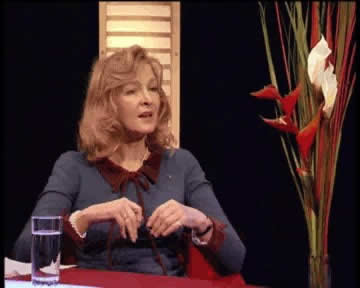 nonprofit video catalogue now online
NB: all captions and photos added by birobidjan.co.uk
Interviewed by Iranian Television in January 2009, Lady Michèle Renouf explained the historical legitimacy of this campaign - and this web site aims to raise public awareness of the secure bolthole which was available for Jews at the end of the war in 1945 and still exists in safety today - without ever requiring a second homeland for European Jewry in the Middle East. The Jewish Autonomous Region in Birobidjan has avoided being termed a "republic" in line with the other ethnic republics of the former Soviet Union, because it is a "delicate matter" and risks "stepping on Israel's toes with the creation of another Jewish state".
The religious brand name packaging of 'Holocaust' deployed to conjure a legitimacy for the secular 'Covenantal bargain' imposture (which is inherent in that religious term meaning a sacrificial burnt offering, in a territorial greed and vanity bid to lay claim to a metaphysical 'promised land') has no moral or God-agreed legitimacy.
(See the comments of traditionalist Bishop Richard Williamson on the 'legitimacy' of Israel.)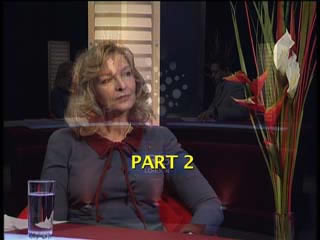 video update now online
NB: all captions and photos added by birobidjan.co.uk
The swindlespeak key to the "moral right" of the Israel issue is this.
Unlike the second Jewish 'homeland' occupying Palestine since the 1948 triumph of anti-gentile Old Testament, depraved Zionist state policy - a premeditated genocidal policy devised by Herzl, convenor of the First Zionist Congress in 1897 - the Jewish Autonomous Region of Birobidjan meant no displacement of any indigenous people at its peaceful creation in 1928, or ever since as a continuing safe haven.
Compare the peaceful founding of Zion in Birobidjan to the case for Zion in Palestine - a case even made indirectly by critics of present Israeli policy such as Sir Gerald Kaufman. Vicariously releasing a little pressure from his fellow MPs (as gentiles sensitive to stating what they know but dare not say on historical Jewish terrorism) in the House of Commons on 15th January 2009, Sir Gerald pushed his standard twistspeak "victims of The Victims" line. In fact chronologically speaking, Israel is not as he says "behaving like Nazis"; Israel is behaving like Zion's role-model myths in the brutal anti-gentile Old Testament.
Herzl's approach to forging The Jewish State was closer to Kaufman than Livni when he wrote: "Both the process of expropriation and the removal of the poor must be carried out discreetly and circumspectly."
Sir Gerald ended his speech by pointing out Israel's deviation from its founders' sly circumspection and discreet euphemisms:
"...the solution by conquest which is the Israelis' real goal but which it is impossible for them to achieve. They are not simply war criminals; they are fools." Like Talleyrand, Sir Gerald apparently views fools as worse than criminals.
Whatever "legitimacy" the sly Zionist entity derived from a United Nations vote in 1948 has surely been forfeited by the shameless record of persistent Zionist flouting of every UN resolution and secret WMD development since 1949, despite international condemnation of its criminal exercises in rogue aggression.
For instance Zionist contempt for the UN has been demonstrated by repeated Israeli attacks - under the Jewish State founding policy's "circumspect" false flag pretexts - to cull Palestine's indigenous civilians. The ignoble history of such operations is detailed here.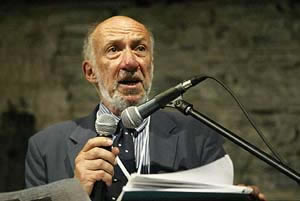 Prof. Richard Falk, UN special rapporteur, has called
on the International Criminal Court to investigate
Israeli war crimes in Gaza
These crimes are exposed blatantly in the words of the Israeli Prime Minister's own official spokesman Mark Regev - who in the interview below admits that Israel broke the ceasefire in Gaza. The twistspeak behind Israel's supposed justification for the Gaza aggression is exposed in this interview - we were told that the Zionists were reacting to Hamas missile strikes, while in fact there were no missile strikes during the ceasefire until it was broken by Israel on 4th November 2008.
Israeli aggression is rooted not in the actions of Hamas but in the World Zionist Congress of 1897's founding project of Jewish state policy to genocide Palestinians. Yet even when his own organisation comes under fire from the deadly and illegal Israeli white phosphorous bombs, United Nations Secretary-General Ban Ki-moon feebly parrots the misconceived line that Hamas must stop its rocket attacks before Israel can be expected to cease its genocidal aggression.
Bertrand Russell - 1970:
Every Israeli expansion is an exercise to discover how much more
Israeli aggression the world will tolerate.
2009 - the 81st Anniversary of the First Jewish Homeland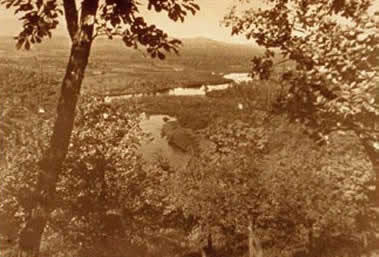 During May 2008 Israelis celebrated the 60th anniversary of their Jewish state, while Palestinians marked six decades of catastrophe or Nakba. At the end of the year the brutal Israeli assault on Gaza awakened the world's conscience to the terrible consequences of 1948, when an artificial Zionist state was created at the expense of Palestine's inhabitants.
But among all the column inches devoted by the British press to this dual anniversary there was no mention of Birobidjan, the original Jewish homeland, whose 70th anniversary fell in 2004. Interviewed live on Press TV for a panel discussion of Israel's 60th birthday, Lady Renouf exposed the story of Birobidjan, illustrating the fraud inherent in the Zionist project. First alerted to this by James Warner of the CDL Report (PO Box 25, Mandeville, Lousiana, 70470, USA) who graciously provided research material rescued from the New Orleans flood waters, regardless of their differing evaluations of the Classical vs Christian pillars of Western civilisation, Lady Renouf told viewers that:
European Jewry, to promote their powerful imposture of a "Promised Land", demanded their right to pirate Palestine as a Jewish "homeland". This was the sly euphemism Zionist founding father Max Nordau used instead of State "to deceive by its mildness".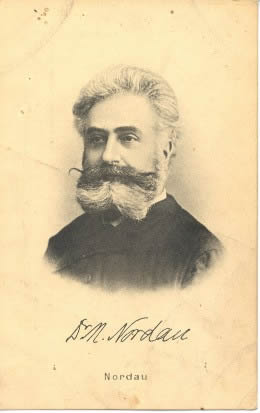 Founding Zionist Max Nordau
Zionists chose not to acknowledge Birobidjan, the voluntary Jewish homeland (supported by American Jewry since 1928) of the Jewish Autonomous Region (on the border of Russia and China). To this day this is a flourishing Jewish homeland - a largely unsung region Lady Renouf makes public on both PRESS TV programmes, which can be viewed by clicking on the programme names:
Fine Print (10th May) and Between the Headlines (15th May)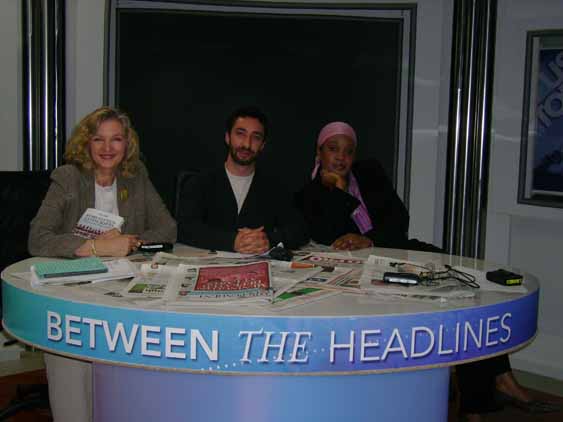 (left to right) Lady Renouf with fellow panellist Joe Mackertich and Between the Headlines presenter Amina Taylor
(For further discussion of these issues Lady Renouf was invited for an interview on TiU Radio which is now in MP3 format: listen to the programme by clicking here. A 1939 booklet by a Jewish author promoting Birobidjan is now online. Please note that this is a 12MB PDF file.)
On the Fine Print panel Lady Renouf's Zionist antagonist was Dmitry Shimelfarb, a former lieutenant in the Israeli Army who is now a political and PR strategist for the Likud party leader and former prime minister Benjamin Netanyahu.
Shimelfarb countered Lady Renouf with the claim that Birobidjan was not a Jewish homeland but a symptom of anti-semitism, a place to which Soviet Jews had been forcibly "exiled" by the dictator Stalin.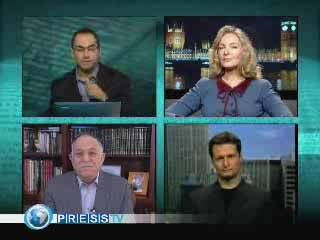 May 2008 Nakba live discussion - clockwise from top left:
Fine Print presenter Amir Arfa, Lady Renouf, Likud political strategist Dmitry Shimelfarb, and Palestinian academic Dr Mahdi Abd el-Hadi
The reality, admitted even by Jewish sources such as the Encyclopedia Judaica, is that Birobidjan was a widely supported initiative to create a Jewish homeland, beginning in 1928 and formalised in 1934.
A large number of Jews took leading roles in the 1917 Russian Revolution, but while these were happy to submerge their Jewish identity into their Bolshevik identity, they recognised that there was a broader problem of how to deal with Russia's Jews.
The last thing the Bolshevik leaders wanted was for their new social experiment to be derailed by further outbreaks of the traditional hostility between Russians and Jews. So early plans to settle Jews in the Ukraine or Crimea were swiftly abandoned, due to adverse reactions from the existing local populations.
The region around Birobidjan by contrast was a large and virtually empty space, and an autonomous Jewish region was created amounting to 36,000 sq. km. This is almost the size of Switzerland (40,000 sq. km) and considerably larger in area than modern Israel (20,000 sq. km).
Far from Jews being forcibly exiled to Birobidjan, there were extensive worldwide efforts to promote this Soviet Jewish homeland project, including 'Ambidjan', the American Birobidjan Committee, whose officials included Albert Einstein and the prominent American Jewish author B.Z. Goldberg.
More than a thousand Jews from outside the Soviet Union emigrated to Birobidjan during the 1930s, though once the Zionist project neared fruition it overshadowed its Stalinist rival.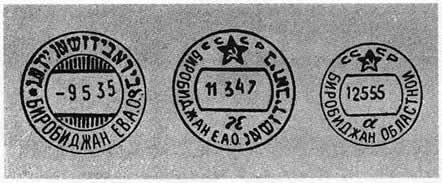 Postmarks from the Birobidjan Jewish Autonomous Region,
dating from 1935, 1947 and 1955
In the post-communist era Birobidjan survives, and remains a Jewish Autonomous Region with Yiddish as an official language. Is this not the obvious solution to the Nakba, Lady Renouf suggests, holding out the prospect of an end to six decades of catastrophe for the Palestinian people? By resettling Jews in the original pre-Israel homeland, Palestine could be restored to its rightful owners, the victims of the 20th century's longest, most notorious and enduring injustice.
An extensive photographic history of the Birobidjan project is online at the Swarthmore College website. The 1939 booklet about Birobidjan by the Jewish author David Bergelson is online here. (This is a 12MB PDF file.)
And the 1971 Encyclopedia Judaica's six page entry on Birobidjan can be viewed here:
page 1044
page 1045-6
page 1047-8
page 1049-50
Michele Renouf interviewed in October 2008 about this and related topics:
(MP3) Part 1 and Part 2
-------------------------------------------------------------
TELLING FILMS DVD RELEASE
click here for order details
Telling Films exposes the pious imposture at the rotten core of the Zion-in-Palestine project in a forthcoming 70-minute DVD - Israel in Flagrante: Caught in Acts of Twistspeak. In this ten minute trailer, the Israel in Flagrante DVD is previewed alongside an interview with Baroness Cox, conducted on the evening the controversial but facile film Fitna was screened at the House of Lords in February 2009.
The Baroness, co-sponsor of the Fitna screening, is asked whether there is a precedent now for films to criticise the hermeneutics of religious scriptures and their meaning in political life. Would an even chance be allowed to a documentary film on the subject of religious and political twistspeak, say in Talmudic Judaism? ...As an extension of Israel in Flagrante, perhaps?
On this trailer for the Israel in Flagrante DVD the anti-Zionist rabbis of Neturei Karta frankly define to camera the deviousness of the World Zionist strategy. They say "Western guilt" over the "Holocaust" was ruthlessly exploited to gain a "Promised Land" as if a 'given' (not a 'taken') in Palestine. A premeditated 'taken' from the indigenous inhabitants, who were to be terrorised to "disappear" as a founding Jewish State genocidal policy, as witnessed to this day, yet devised in 1895 by Zionism's founder Theodor Herzl who convened the First World Zionist Congress in 1897.
Indeed the very term "Holocaust" and "6 million" gematria for the secular Zionists' choice of iconic brand names derive from the religious concept of a secular "Covenantal" bargain with a materialistic Jewish God. A bargain by which criminal Zionism gained a bolthole to avoid international condemnation, while non-Zionist Jews were their archetypal sacrificial offerings, and the real price was paid by their gentile European and Palestinian scapegoats.
Israel in Flagrante DVD available soon from Telling Films
Running time 70 minutes - PAL and NTSC versions
£12.50 including postage and packing (U.K.)
£15 for overseas orders to Europe, USA, Canada, Australia, New Zealand
For all other countries, and for any further enquiries, please email dvdorders@tellingfilms.co.uk
Payment via PayPal to dvdorders@tellingfilms.co.uk
or by cheque made payable to Telling Films and posted to:
Telling Films
BM Box 6743
London
WC1N 3XX
England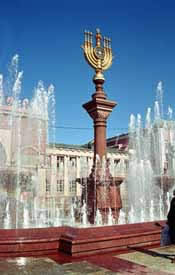 Birobidjan remains the main city of a 'Jewish Autonomous Region' or oblast today.
The 48-page booklet pictured below was published by the American Birobidjan Committee in 1948, the very year in which Zionists seized Palestine with the mendacious claim that only a new state of Israel could offer a safe Jewish homeland. By then the Jewish homeland of Birobidjan had existed formally for fourteen years and informally for twenty years!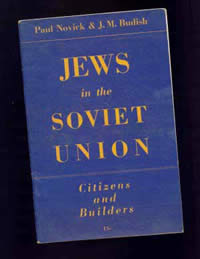 The likes of Dmitry Shimelfarb prefer to ignore the facts about Birobidjan so as to continue peddling the falsehood that Israel was needed as the only safe homeland for persecuted Jews. In this respect Shimelfarb is a worthy successor to the deceitful founders of Zionism.
The unholy trinity of Zionism's founding fathers:
Max Nordau, Theodor Herzl and Max Mandelstam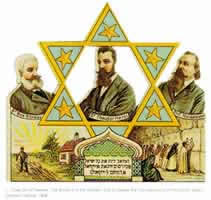 Lady Renouf takes the Birobidjan campaign to
Teheran at the 2010 Imam Khomeini commemoration

(now also online in Spanish translation, Italian translation, French translation, German translation, Russian translation and Japanese translation)
HALF A CENTURY
BEFORE HITLER
Undermining its positive aspects, even this pro-Palestinian film (below) maintains the consensual lie that Israel has a victim's right to exist.
Click here for a 21-line salute to the voters of Hamas who know Herzl's Israel really means the "disappearance" of all Palestinian dignity.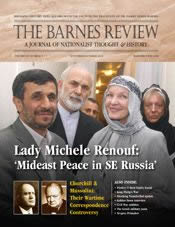 Concurrent with President Ahmadinejad's visit to the United Nations in September 2010 he was celebrated on The Barnes Review front cover story. (PDF file)
The Barnes Review's laudable motto is: "Bringing History Into Accord With The Facts".
---
---
---
FURTHER COMMON SENSE
ACTION IN MORAL /
MORALE REJUVENATION
Graf Hans-Christof von Sponeck:
"Laws and justice are not just for the weak and for the losers. None of us, no one can escape the moral, the intellectual, the political and the legal challenges that are emerging out of this Iraq tragedy..."

---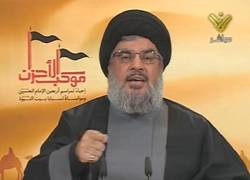 "Our way to glory, dignity, independence, liberation, power, prosperity, and security, is through unity, avoiding incitements and conflicts, solving issues through dialogue, and holding on to the resistance spirit and choice."
---
---
VOTE RON PAUL - worldwide!
---
LATEST PERSPICACITY:

---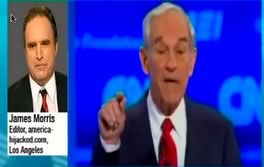 ---

---
"...Lean on Israel to dispose of its vast nuclear arsenal. This simple act would in one stroke take away the whole reason for Iran or other nations in the Middle East to want a comparable deterrent."
---


RT redresses global swindlespeak when perspicacious Adrian Salbuchi debunks Zion's brood of vipers
---
LEGAL ACTION AGAINST WAR
---
| | |
| --- | --- |
| | "Netanyahu is a liar", confides Sarkozy + Obama |
---
"Israel the
terror state"

"UN the
terror council"

"NATO the
terror tyrant"

LONG LIVE A GIANT AND HIS JAMAHIRYA
---
President Ahmadinejad speaks hometruths to the UN Assembly: BRAVO!
---
Abbas Palestine seeks UN membership ... what Hamas calls "a political scam"
A viewer comments:
"...strong show in your video but ... the argument would have been stronger if you had brought out the fact that the Sephardic (and real Jews), in exile from Jerusalem, were hardly ever persecuted by the Arabs and only expelled from one country, Spain with the option to convert. Not so the Ashkenazim who adopted the Jewish faith but have no ancestors in Palestine at all but came from the depths of Russia. Settled in the Pale, they constantly trickled West to flee from Russian oppression and their own rabbinical tyranny. For some, still taboo, reason they were eventually expelled from every city and country in Europe, without exception. They invented Zionism with the crazy notion that Yahweh made them a present of all of Mesopotamia where they did not come from. That is why the Siberian idea invented by Stalin is correct."
---
Baroness Tonge refuses to apologise for justly stating: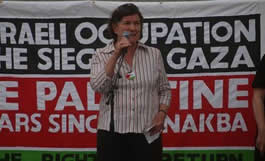 "One day, the United States of America will get sick of giving £70bn a year to Israel to support what I call America's aircraft carrier in the Middle East – that is Israel. One day, the American people are going to say to the Israel lobby in the USA: enough is enough."
"I am disappointed the leadership of my party did not consult me before issuing a press release and seems always to abet the request of the pro-Israel lobby. Israel is acting against international law, the Geneva conventions and human rights. They do this with impunity and if our political parties will not take action then individuals must."
---
Gilad Atzmon:
Bravo to Nottingham Secular Society for holding protest against cancellation of Atzmon's concert
---
New DVD
Click here for online preview and ordering information
---
---

---
In their own words:
The Day Israel
Attacked America
---
Eric Lowe – British servicemen in Palestine 1945-1948 considered:
"European Jews going to Palestine after two millennia to take it for themselves would be like Romans claiming Britain after an absence of two millennia."
---

+
---
(audio MP3 file)
---
Dr David Duke
"Free Gaza and Free the World!"
---
Dr James Thring
"Israel launched raid on Gaza based on made-up excuse"
and
Danny Schechter
(NY-based Jewish media analyst)
REVEALS Israeli public perception strategies